Sales Management Digest
An Attitude Awareness Quiz for Salespeople
Gerhard Gschwandtner
Attitude is a word with many meanings. To a marketer, attitude might be a feeling about a brand or product. To a psychologist, attitude represents the cause of a particular behavior.

To a salesperson, attitude can often mean the difference between a sale closed or lost. How can we develop attitudes that lead to better health, higher income, more secure employment, higher career satisfaction, and a greater level of success? It appears the more accurate we are in pinpointing our needs, the easier it becomes for us to build more productive attitudes. The following quiz about attitude awareness has been developed to help you pinpoint your current attitude-building needs. Each time you check no, view that recognition as an opportunity to change your attitude.

1. Is my current mood reflective of negative past experiences? Yes/No

2. Is my current mood hopeful and optimistic about the future? Yes/No

3. Do I feel that I am in control of my life at this moment? Yes/No

4. Do I see the problems I face as stimulating challenges? Yes/No

5. Am I free of self-abuse, such as overeating and/or abusing alcohol or drugs? Yes/No

6. Am I pursuing any realistic and challenging goals? Yes/No

7. Am I committed to an ongoing exercise program? Yes/No

8. Are my family relationships a source of love, pride, and support? Yes/No

9. Do I consider myself a success? Yes/No

10. Are my thoughts stimulated by positive speakers, authors, and personal heroes? Yes/No

To start making attitude improvements today, begin by taking inventory. Pick an element in your life that seems to be holding you back, and then take the necessary steps to get it the way you want it. Then celebrate the victory, and pick some other area to work on. Soon you will be caught up in the exuberance of daily self-improvement and an improved overall attitude.

Even small attitude adjustments can be difficult, but striving for daily self-improvement is important to sales success. In 1859, Samuel Smiles said, "Help from within invariably invigorates." There is nothing like the thrill of helping yourself overcome a difficult problem. As an added benefit, your good attitude can help make the lives of everyone around you easier and more enriched.

Upcoming Event
Peak Performance Mindset Workshop for Sales Leaders


Tuesday, December 5


More Info
Daily Cartoon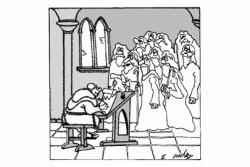 Prophets are up.