Selling Power Magazine Article
Inside Info
Selling Power Editors
During a presentation at the most recent Sales & Marketing 2.0 Conference in San Francisco, Penny Herscher, president and CEO of FirstRain, which sells a patented software that analyzes and filters information on the Web, discussed some of the problems sales professionals have leveraging information on the Web in order to increase revenues. Herscher, who has an extensive background in software, sales, and marketing, framed the problem by pointing out that the design of Internet search functions are at odds with the way sales and marketing teams need them to work.
"The issue that marketing teams face is how to keep their sales force current," Herscher says. "For most sales teams, the access they have to qualitative information is very shallow. It's keyword driven. So they don't have deep knowledge.
"The Web holds vast resources, but it tends not to deliver intelligent results. It's a traffic-driven model. That means that whatever is most popular rises to the top of the searches by default."
Type a keyword into Google search, for example, and you'll get a list of sites with the highest page rankings related to that search. But just because the page is popular doesn't mean it's relevant. As Herscher points out, if you're a sales rep trying to sell a payroll service to Domino's Pizza, for example, Google will likely give you the location of your nearest Domino's, not which executives recently left the corporate office or what market shifts are currently affecting the company. "What you get is the latest news that's been revealed about Domino's," says Herscher, "not the business-relevant information, because [Google's] business model is to drive ad traffic."
Many sales and marketing teams make use of Google Alerts or Google Insights to stay on top of information and news related to their customers and prospects. It's a useful tool – to a point. This data is often accompanied by a lot of noise, including duplicate results and dated information. It's not surprising that the sales industry is starting to respond to these inefficiencies by offering such solutions as FirstRain, which allows users to target the specific information they need to know to sell more.
The sales team of one of the largest pharmaceutical companies in the world, for example, uses FirstRain to sell to the managed-care industry. "Legislation has a huge impact on the way we all get health insurance," says Herscher. "[This] sales team gets market monitors from FirstRain every morning that tell the precise, industry-relevant documents that have been published on the Web in the last 24 hours. All sales reps have personalized monitors about their customers and the market shifts that are affecting their customers."
Armed with the right information, sales teams are better equipped to act as expert advisors to clients and prospects. "If you understand your customer's business really well, you can bring to the table suggestions and solutions that differentiate you from your competition," Herscher says. "So many salespeople pick up the phone and talk about themselves. This is a tool that makes it very easy to talk about the customer's business."
Free Webinar
How to Improve Your Sales Team's Prospecting Strategy with Video


Tuesday, November 14
2:00 pm ET


REGISTER NOW >
Upcoming Event
Sales 3.0 Conference


Monday, December 4


More Info
Daily Cartoon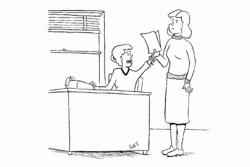 I counted 23 federal, state and local taxes we pay, and that's called FREE enterprise?