Selling Power Magazine Article
Big Payoff, No Hassles
Robert McGarvey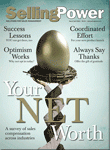 Subscribe Now
Happy customers are what SAP is all about. And if you're looking for satisfaction from a suite of tools that can make a huge difference to the sales force, look at W. W. Grainger, a large B2B supplier of business necessities (adhesives, fasteners, etc.). Brady Hare, director of sales planning and training, says his company is a satisfied user of SAP analytic tools precisely because analytics "give the sales reps the information they need to make the best use of the time they have with their customers and prospects."
Grainger provides reps with a suite of SAP analytics and, says Hare, reps are using them because the tools have been created with ease of use in mind: "Sales rep acceptance is very, very high." This is because, when they use these tools, reps swiftly learn that they are more productive. "The objective of analytics is to make the time with a customer more valuable," stresses Hare.
And who should know better than John Savage, VP of sales for SAP America's Midwest region? It only takes Savage a few moments to find out what's happening in his territory. All the information he needs is a click away, thanks to SAP tool kits. He says it's a snap to search "by territory, product, rep, state, revenue, industry, quarter, and month." He continues, "Pick any dimension; I can look back by prior year."
Now, there's one thing Savage makes clear. He is no techie. He's a sales guy first and forever, and as a manager, Savage finds it exciting that with just a click or two, the new SAP BusinessObjects tools let him drill down into exactly what he wants to know now – and this lets him better manage the eight reps who report to him. It's a dream of a data stream, but more to the point, says Savage, is that if he can use it without any special training, anyone can. "Our data is much more accurate and much timelier, and because we look at data more frequently, we make decisions faster," says Savage. "Ease of use is key."
Just a few years ago, when Savage wanted to know a key metric – customer satisfaction levels, for instance – he had to contact a staffer in sales operations who, as time allowed, would crunch the numbers and get back to him with the requested info. Now all it takes is typing in a few words and a mouse click. "This is a lot like looking up information in Google – it's that easy," says Savage. "If you can use Google, you can use these tools."
Don't just take Savage's word for it, and don't think these analytics work only for sales managers. W.W. Grainger sells nearly 1 million different products and focuses on ensuring that customers know about relevant Grainger products they are not currently buying. Similarly, an easy-to-use, analytical dashboard's role is to let a rep know at a glance which products to put in front of the customer. "The analytics are letting us quickly see new opportunities with existing customers," says Hare.
Time being money, as the old saying goes, sales reps and managers understand that everyone is pressed for it. Getting just a few minutes face-to-face with a customer or prospect is a triumph that pays off when the right analytical tools create maximum efficiency in tiny increments of time. With the SAP tools suite, which shows exactly what the customer has purchased – and what he or she hasn't purchased but probably should consider – reps can instantly pop up the exact information with the right tools, according to Hare, who adds, "These tools help us think differently about information, about sales analytics, and this is letting us get better results.
"Keep it simple, keep it relevant, and make it information reps can act on. When information is irrelevant, they resist it. But they see how these tools will help them sell more, so they have been quick to use them," says Hare. "That's what we are getting with our
(continued on page 2)
Webinar
It's OK to be Selfish - How to Enable Reps to Succeed


Tuesday, March 18
2 pm ET / 11 am PT


Register Now
Upcoming Event
Workshop: Using Insights to Provide Value to Customers & Win More Deals


May 7, 2014


More Info
Daily Cartoon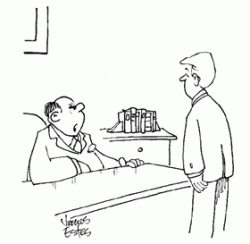 You know my door is always open, Roberts...Well, don't just stand there, man - get maintenance up here to fix it!