/// Daily Quote
"Procrastination is opportunity's natural assassin."
-- Victor Kiam

Selling Power Magazine Article
Staged Right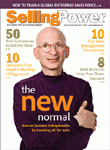 Subscribe Now
This article is based on a conversation with and material provided by Mark Pollard, chief marketing officer at Altus Corporation, a provider of on-demand video search and management systems. He joined Altus after working with Silicon Valley Management Partners, a management consulting and M&A advisory firm, and has held positions of importance at numerous high-tech firms. He can be reached at Altus Corporation,
2105 S. Bascom Ave, Suite 135, Campbell, CA 95008.
Tel: 408/395-9154 Fax: 408/358-0304 Web: altuscorp.com
The Sales-Training Dilemma
Sales managers face a difficult dilemma: the need to create more revenue in a difficult economy without hiring more people. One solution to ensuring their sales teams perform at the highest level to meet sales goals? More effective, ongoing sales training.
While company executives pressure sales managers to reduce the cost of sales in order to improve overall corporate profitability, they also want sales results. With classroom training and sales events running up costs and contributing to time away from the field, the cost of sales rises again. But there is another way.
First, let's consider some challenging recent changes in the business world:
1. Companies are more global, creating broad geographical distances that increase the travel expenses associated with a sales-training event.
2. Companies are more dependent upon channel partners, who are often unwilling to participate in events due to conflicting demands from multiple vendors.
3. Product offerings are more complicated and hence more difficult to sell, increasing the demand for product-oriented sales training.
4. Training is offered on a corporate schedule, not when salespeople need the training.
As a result, many sales professionals are insufficiently trained when companies need them to be at the top of their game.
The Online Alternative
One way out of this dilemma is to move sales events and training online. Companies have been doing this for years with teleconferencing and more recently with Webinars, Web conferences, and virtual events.
Such online events provide a vehicle for sales training that costs far less than classroom events because there is no travel time involved. Furthermore, such events can be recorded for new hires to view and by attendees who wish to review the contents to refresh their memory.
Webinars, online events, and teleconferences, however, still have some of the liabilities of traditional classroom events:
1. They're time-consuming. To get the full benefit of attending, the attendee must sit through the entire event, even if only a part of the event is of interest.
2. They result in poor retention. Numerous studies have shown that people retain only a fraction of what they hear in a classroom, whether online or in person.
3. They aren't convenient. Even when they're recorded for future playback, finding the segment that's of interest generally requires spooling through the entire recording, watching for the part you need to see.
In addition, teleconferences only use audio, and most Web conferences only use audio and text (as in presentations). That's profoundly at odds with the way that people are now consuming information, according to a recent report by the high-tech analyst firm Wainhouse Research, which points out the following:
In recent years, information workers have been inundated with rich media content – both at home and at work. Between videocentric websites (e.g., YouTube, Hulu, Skype), rich-media-powered news portals, and the use of digital signage in storefronts, shopping aisles, and malls, lobbies, and elevators, rich media has become an accepted part of our everyday lives.
The Importance of Video
Video data is particularly important when the content requires some kind of visual reinforcement or is intended to convey an emotional message. For example, listening to an awards ceremony, such as one honoring sales-contest winners, is a bland and listless experience. The emotional excitement and motivational value come from the delighted expressions of the winners, the victory gestures, and so forth.
Just as emotion is better carried through video, there are many types of instruction, such as role-playing or showing how to demonstrate a product, that fall flat in a teleconferencing or Web-conferencing environment. But while the inclusion of video in the online experience is necessary in order to simulate anything close to the full impact of an in-person event, it tends to make the recorded experience even more impractical. An hour-long event, for example, might take several minutes to download, and even then the recipient would need to spool through to find the relevant segments.
While that might work for a one-time viewing of an awards ceremony, it becomes a productivity burden when, every time a certain problem occurs, you need to refer back to the relevant content to view a demonstration on how to fix it.
Indexing Video Content
Incorporating video content into an online event isn't difficult. Most Web-conferencing systems, for example, allow the display of such data, and even teleconference users can be directed to videos posted on a corporate Website or YouTube. The challenge occurs when segments of a live event are recorded for future viewing. To be practical, the data must be broken into small segments that can be located and viewed quickly. It's possible to do this by manually editing the video data, uploading the separated files onto YouTube, and then entering index data in the form of keywords.
While this do-it-yourself method is time consuming and labor intensive, many companies have made their sales-training programs available in
(continued on page 2)
– Geoffrey James
Selling Power Classics
Get Your FREE Issue of Selling Power
/// Upcoming Webinar
Sales Coaching for Improved Performance
Thursday, May 23
2 pm ET / 11 am PT
Register Now
>