/// Daily Quote
"A common danger unites even the bitterest enemies."
-- Aristotle

Selling Power Magazine Article
The Contrast Principle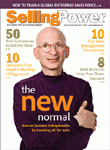 Subscribe Now
When a desk agent at O'Hare International Airport was authorized to offer passengers a $200 voucher to take a later plane, he made an announcement as a joke: He offered a $10,000 voucher. Big mistake, says Robert B. Cialdini in his book
Influence: Science and Practice
(Allyn & Bacon, 2005).
By order of the contrast principle, which states that people will tend to see larger differences between things that are presented to us one after the other, the agent should have jokingly offered a voucher for $5. By contrast, $200 would have seemed like a lot. (In fact, he had to go up to $500 to get volunteers.)
– Lisa Gschwandtner
Selling Power Classics
Get Your FREE Issue of Selling Power
/// Upcoming Webinar
Sales Coaching for Improved Performance
Thursday, May 23
2 pm ET / 11 am PT
Register Now
>