Selling Power Magazine Article
Have No Fear!
Kim Wright Wiley
Left, Right, and Center,
she donned pajamas and literally climbed into bed with humorist Al Franken for a television special called
Strange Bedfellows
, which aired on Comedy Central during the 1996 election. Mixing humor with politics is old hat for Huffington, who has won an Emmy as part of the writing team of
Politically Incorrect with Bill Maher
. And if laughing at politics is dangerous for a supposedly serious political commentator, that's nothing compared to the even bigger taboo Huffington challenged when, shortly after
Strange Bedfellows
aired, she stunned Republicans and Democrats alike by switching her political affiliation.
Her latest major project has been the 2005 launch of her Webpage, The Huffington Post, with a focus so broad (or scattered, if you listen to her critics, who are legion) that it was predicted to flop. Nikki Finke, writing in the
LA Weekly
under the headline "Why Arianna's Blog Blows," deemed it "the sort of failure that is simply unsurvivable" and went on to add, "She has now made an online ass of herself." But in less than two years The Huffington Post (www.huffingtonpost.com) has become so successful that former adversary (and now friend) Al Franken calls it a "widely read, hugely influential liberal blog" and even Nikki Finke has decided that the Post is "an asset to the Internet dialogue." Huffington was named to the 2006 Time magazine's list of the world's most influential people.
The flamboyant, attractive Huffington, age 56, lives in Los Angeles with her two daughters, where she is passionately involved in community causes. She is a frequent guest on shows from Oprah to Nightline to Larry King Live and has recently published her 11th book,
On Becoming Fearless…in Love, Work, and Life
(Little, Brown and Co., 2006).
If the word "fearless" in the title jumps out and grabs you, perhaps it's because clinical anxiety disorders affect more than 20 million Americans. Some fears are rational – there's good reason to avoid fire, for example – but a surprising number of these clinical disorders revolve around social fear. It makes sense to be fearful if you're adrift in a boat during a storm, but why do we sometimes feel the same level of terror, or worse, over the mere idea of public speaking?
Physical fears are the result of what centuries of evolution have hard-wired into our brains, but social fears are largely based on what we tell ourselves, and it's primarily these social fears that Huffington addresses in her book. The key word in the title isn't "fearless," it's "becoming." At first glance, or at least when one considers the simple biography above, Huffington seems to be one of those rare creatures who was born with total self-confidence, who has moved effortlessly from one success to the next. In reality, she has struggled with fear and self-doubt all her life.
Arianna Stassinopoulos moved from her native Greece to England when she was 16 in order to attend Cambridge University. At 21, she became president of the famed debating society, The Cambridge Union, and she ultimately graduated with an MA in Economics.
This may sound like the resume of a young woman prepared to conquer the world, but a theme that resonates both in Huffington's books and her personal life is the particular challenges of being a talented woman associated with a powerful man. Two of her most successful early books were
Picasso: Creator (continued on page 2)
Upcoming Event
Sales 3.0 Conference


Monday, December 4


More Info
Daily Cartoon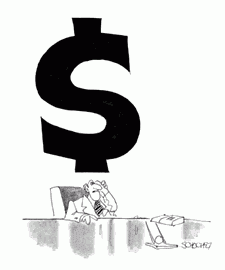 What's my sign?