/// Daily Quote
"Education is an ornament in prosperity and a refuge in adversity."
-- Aristotle

Selling Power Magazine Article
In Control
Here's a new twist on sales management: the self-managed sales team. Yes, that's right. From Seattle to Miami, and everywhere in between, experts and management consultants are recommending self-managed sales teams as a way to streamline corporate structures and simplify the sales process.
According to Jeff Blackman, a Glenview, Illinois-based sales trainer and author of Opportunity $elling (Successories, 2000), "Salespeople have to start self-managing. There's no choice about it. The reason is simple: Nobody else will take responsibility for your success. If you are a salesperson today, you must take charge or your performance will falter."
He's not kidding. Buyers are more demanding than ever, profit margins are shrinking and waves of corporate consolidation and downsizing are eliminating multiple layers of management. Sales that used to be relatively easy are now more complicated. The upshot? This is a time when self-responsibility is the only path. "The old ways – the tools that let you succeed so far – don't work any more," says Ron D'Andrea, executive vice-president at BayGroup International in Darien, CT. "To keep succeeding you need new tools, new ways of thinking."
Some of these new ways of thinking include having a self-managed sales force. But it hasn't happened yet. "About 20 percent of today's salespeople are genuinely self-managed," estimates Jim Pancero, a sales trainer based in Milford, OH. "The top one-fifth of many sales forces already are practicing self-management. But the other four-fifths aren't and, in most cases, they aren't even close to doing it."
Why? For one thing,
self-management isn't easy. "Self-management requires relearning how you think about yourself and your place in your company, and even in the world," says Newcastle, Washington-based sales trainer George Walther. "We can learn tools and attitudes that enhance our self-management," he points out. "However, we have to be prepared to accept change on many fronts."
Changes from the Top Down
Sales consultants agree that the first big area of change requires reorienting the thinking of sales managers, many of whom quite strenuously oppose sales force self-management. While they may not publicly acknowledge this opposition, they nonetheless often systematically undercut it.
"Sales managers need to learn to let go," says William Skip Miller, a Los Gatos, California-based sales consultant and author of Proactive Sales Management (AMACOM, 2001). "Too many sales managers manage in ways that create dependence on the part of their salespeople," he explains. "Too often, their days are spent saying, 'No, no.' They need to rethink their jobs."
That's food for thought. It's easy to castigate salespeople for their dependence, but is their corporate culture reinforcing it? In most businesses, the sales force is behaving exactly the way the organization is directing them. If they are dependent, that's probably because the company is pushing them in that direction. "A lot of sales managers are still acting like police," admits Austin McGonigle, an Atlanta sales trainer.
"I tell clients, 'Fire all your sales managers,'" says Blackman. "That's a first, essential step in building a more effective sales force. You don't need managers – you need leaders. And there is an important place for sales managers who transform themselves into leaders."
Do that and you are a large step closer to sales force self-management. However, you still have to take another prerequisite step. "Eliminate the 'administrivia,'" urges Curt Tueffert, national sales manager for Digital Consulting & Software Services, a technology consulting firm in Sugar Land, TX. Many salespeople are drowning in "administrivia" – what Tueffert calls the avalanche of paperwork that piles up on salespeople's desks. By his reckoning, this paperwork eats up as much as two-thirds of a salesperson's time. Furthermore, most of it "is unimportant, and filling it out distracts from the person's job – which is selling, not filling out papers," he says. "Management needs to eliminate all paperwork that does not have a clear purpose."
That's not news. However, what is important is that until the paperwork is pared down to the essentials, few salespeople will welcome further imposition from on high of yet another edict. In fact, many salespeople will see a command to self-manage as just one more burden piled on by out-of-touch management. In short, they will give it little or no attention.
Sell the Benefits
Curbing the paper flow is just the first step, however. Go through the stacks and eliminate anything that's unnecessary. Tell salespeople exactly how this has lessened their burden. Then move in with the real pitch. "Sell them on the benefits of self-management," advises McGonigle, who puts real emphasis on sell. "So many companies ignore this and then they wonder why their self-management initiative is faltering. Before salespeople will energetically embrace self-management they have to understand the benefits – what's in it for them."
In other words, to get a sales force self-managing, it needs to be persuasively sold on the idea. What is in it for your salespeople? "When they are self-managed, they will make more money," McGonigle points out. Why? Because they will be free to prioritize their own leads and, over all, they will be able to make more and bigger sales, faster. "There
(continued on page 2)
– Robert McGarvey

Today's post is by Marc Wayshak, sales strategist and author of Game Plan Selling: The Definitive Rulebook for Closing the Sale in the Age of the Well-Informed Prospect and Breaking All Barriers: Insider Secrets to a Limitless Life. "Jingle bells! Jingle bells! Jingle all the way! Oh what fun, it is to ride..." Just the thought of that …
READ THIS BLOG
>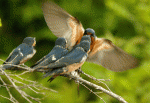 /// Upcoming Event
Sales 2.0 Conference
Monday, March 10
8:00 am
More Info
>