Selling Power Magazine Article
Overcoming Doubts
Joan Leotta
How you handle the next few minutes will likely mean the difference between winning or losing the sale. No matter how great the presentation, if you can't counter doubts this prospect will never become a customer.
Joy Mintzer, sales coordinator for ICI Americas Inc., Imperial Chemical Industries (ICI), a Wilmington, Delaware-based chemical firm, says, "We manufacture film for a sublimation printer – a specialized photographic application. I see doubts arise when customers don't have all the information they feel they need."
Mintzer explains that sometimes the lack of data is due to omission. More often, especially with a very complex product, the information has been given but the prospect didn't understand it.
To overcome this problem, Mintzer devotes time polishing and practicing her presentations. "Your information should contain all the data that the technical person needs, while being clear enough to be understood by the nontechnical decision makers. No matter how complex the product, the presentation must be clear and concise. You need to know what you are going to say and do each step of the way. You don't want to fumble with your slides or handouts. That can make the client feel you don't know your information.
"Our field is narrow and specific. We do a lot of product sampling: it helps build technical understanding and creates trust.
"When I visit customers who have sampled the product, our quality has already overcome product doubts. But I still need to be fully informed about their industry and particular needs so the clients will develop enough trust to make us the supplier."
Mintzer advises, "Tailor your basic presentation for each customer. You don't need to dump a truckload of information. Extraneous details may raise doubts. Show what about the application is needed for their business. Don't overwhelm clients with everything the product does.
"For instance, when selling to health care people, I don't mention features that make possible applications in roller coasters for my theme park prospects, who have no interest in how the film is used by the health care industry."
Wayne Wyvill, broker-owner of REMAX Metro 100, comprising five real estate offices in the Washington, DC, area, sells houses and dreams. "A house is more than a product – it's a home. We are in the business of turning someone's dream into reality.
"Customers' doubts arise from lack of knowledge about real estate. They must have confidence that their salesperson will tell them what they need to know," Wyvill emphasizes. "They have to trust us. Sometimes we help them reshape their dreams to meet the reality of smaller budgets, market conditions, what's available, etc." Doubts are fatal because they lead to indecision, which means no sale.
Agents must get to know their customer's individual needs and then study the market to pair up the customer with the right housing and financing. "They need to be ethical; they need to be sponges for human reactions and expression."
In this very human process, Wyvill points out, knowledge is important, but just as important are relationships. "Success comes from more than just knowing the facts. The human side of sales is the most important aspect. You can go to the Internet for basic knowledge. If you don't have any knowledge they won't trust you, but even if you have knowledge and can't gain their trust, they still won't work with you," warns Wyvill.
Teaching the art of balancing knowledge and trust can be difficult. "It's an intangible skill and needs to be taught in an intangible way. We find that the only way to teach this is
(continued on page 2)
Free Webinar
How to Improve Your Sales Team's Prospecting Strategy with Video


Tuesday, November 14
2:00 pm ET


REGISTER NOW >
Upcoming Event
Sales 3.0 Conference


Monday, December 4


More Info
Daily Cartoon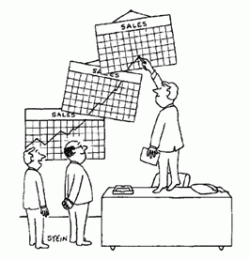 He's a terrific sales manager, but he's not very well organized.