Sales Management Digest
Six Ways to Tweak Your Sales Compensation Plan
Heather Baldwin
Many sales managers have been grappling with whether to make midyear changes to their compensation plans to reflect the realities of today's soft market. The answer to that question is a resounding maybe, says J. Mark Davis, managing principal at Valitus Group (
www.valitusgroup.com
). To help you decide whether a change is warranted, first confirm that your team's underperformance is a function of outside market forces and not a reflection of low productivity, says Davis. Next, make sure your numbers are far enough off to warrant a midyear change – shockingly few reps performing at quota, for instance, or too many (25 percent or more) reps below threshold or no one achieving excellence.
If you're nodding your head because this all sounds familiar, a midyear plan adjustment is likely appropriate. But don't go making sweeping changes; instead, make one or more of the adjustments below. These types of incremental changes, says Davis, enable you to keep the "overall framework of your sales compensation plan intact" while still adjusting it to the realities of the market.
Reduce threshold. Typically, 90 to 95 percent of a sales force is expected to exceed threshold, or the minimum performance level required to earn any incentive. If you've got well more than 10 percent of your sales force not attaining this level, consider lowering it. "Calculate the fifth-percentile quota attainment level on a year-to-date basis as a starting point to see what a more reasonable threshold may be," says Davis.


Reduce excellence. By the same token, if no one has reached excellence, you may need to redraw the line at which excellence is attained. To do so, calculate the year-to-date ninetieth percentile performance level as a more realistic indicator of where to reset the bar.


Adjust incentive rates at key points. If you make either of those first two adjustments, you'll likely need to make corresponding changes to certain incentive rates on the performance continuum. For example, if the original compensation plan paid 50 percent of the target incentive at 80 percent of quota, you might now pay only 40 percent of the target incentive at the new threshold of 70 percent of quota, says Davis. "Likewise," he adds, "if the excellence performance level is reduced, you may need to reduce the amount of incentive paid for the new, lower excellence performance level."


Reset the clock. Sometimes, all that's needed is a fresh start. If you measure performance on a cumulative, year-to-date basis and some of your reps started the year off slowly, those early months are still dragging them down. "Consider resetting the performance-measurement clock with the start of a subsequent quarter or month," says Davis. By wiping the slate clean, you'll likely see a boost in morale along with better performance.


Add a SPIFF. A SPIFF, says Davis, is a "special, temporary incentive that sits outside the core sales-compensation plan." It rewards results that complement the compensation plan but are not innately part of that plan. For instance, you might offer a SPIFF for generating a certain amount of revenue from a defined list of new accounts or for getting a fast start to a new quarter.


Adjust the annual revenue quota. Admittedly, it might not be possible to do this, which is why Davis mentions it last. But even if you can't make adjustments to your top-line commitment, there are still some steps you can take within the framework of that commitment. First, revalidate the assumptions that led to the annual quota at the beginning of the year. Second, take another look at how you've broken down the aggregate quota and allocated it to individual salespeople. Does that allocation still make sense? Finally, "where over-assignment of quota is the norm, ensure there wasn't too much over-assignment as the top-line number cascades down into the organization," concludes Davis.
Upcoming Event
Sales 3.0 Conference


Monday, December 4


More Info
Daily Cartoon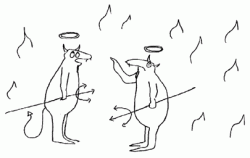 I didn't want one either, but the guy had such a great sales pitch.