Sales Managers Report
How To Acquire and Manage More Leads
Pelin Wood Thorogood
Tough times require that sales managers focus on what's really important. To put it simply, that means leads, and lots of them. I am not the only one feeling the increased heat at the top of the sales funnel. According to the 2009 IDC Tech Sales Barometer, sales investment in lead-generation technologies is one of the few bright spots in the current economic meltdown. This year, while most other functional areas are feeling the squeeze, investment in lead generation is expected to see a whopping 40 percent increase. Underscoring the urgency of these investments is another IDC prediction: "Sales organizations that bolster dedicated investments in lead quality and demand generation will be rewarded with significantly higher sales productivity." That implies that there is gold at the end of this recession; however, there are some important considerations before joining the gold rush to revamp your lead-generation approach. While some best practices have weathered the test of time, emergence of social media, proliferation of data about prospects and customers, and broader adoption of customer relationship management (CRM) solutions are forever altering the lead-generation landscape. Alignment These days the lead-generation function is more or less shared between the sales and marketing organizations. Lead generation can either be inbound or outbound, manual or automatic, and can include a continuum of activities, ranging from list-based campaigns, online advertising, and search engine marketing (SEM) to cold calling and "social" calling. Regardless of your lead-generation mix, effective use of your scarce resources - people, time, money - requires marketing and sales alignment. According to the Aberdeen Group Lead Lifecycle Management report (July 2009) by Ian Michiels, 78 percent of the best-in-class companies demonstrate a collaborative effort between sales and marketing when defining a qualified lead, the buying cycle, and the sales cycle, compared to only 37 percent of the laggards. SegmentationWhile sales and marketing alignment is critical,
the key to successful marketing has always been targeting the right audience with the right message. According to the earlier-referenced Aberdeen study, best-in-class companies are much more likely to segment and target their prospect and customer databases. Segmentation is crucial to increasing lead-conversion rates and reducing cost-per-lead (CPL) in both acquisition marketing activities and lead nurturing of not-yet-sales-ready leads. Not surprisingly, custom segmentation capabilities emerge as an important consideration when selecting the right lead-generation solution. Data AccuracyWhen it comes to list-driven lead generation, more data about companies and executives is available today than ever before. Online Sources of B2B Data: A Comparative Analysis, by Ruth Stevens and Bernice Grossman (January 2009), does a nice job of comparing 10 B2B data vendors based on three criteria: volume (how many good contacts can I retrieve from this system?), completeness (can I get every field I want?), and accuracy (is the contact information correct?). So more data is good, right? Not necessarily. An interesting takeaway is that it isn't easy to assess accuracy - or the truth - about the contacts within the vendors' databases. Unfortunately, one unintended consequence of data proliferation has been conflicting data between providers, or in other words, incorrect and incomplete information about your prospects.Social-Media IntegrationFew trends hold as much promise in improving sales productivity as the emergence of social media. LinkedIn, Twitter, and Facebook can bring new perspectives and timely color to lead-generation efforts. Whether tapping into relevant news about your prospects or discovering a connection to make that cold call much warmer, access to social media is quickly becoming indispensable for successful lead generation. But social media can easily become a time-suck, as well. Hence, usable access to relevant social content is becoming a must-have in lead-generation solutions.CRM IntegrationSince CRM has essentially become the system of record for leads throughout the sales cycle, we are seeing more and more lead-generation and marketing-automation system integrations with CRMs. These integrations also allow lifecycle monitoring of leads - from lead source to opportunity conversion, all the way to deal closure - to assess ultimate lead quality. An additional benefit of the integration is improved prospect data quality, as well as increased CRM adoption. As you ponder your lead-generation solution purchase, remember that effective lead generation needs to combine process with technology in order to deliver both the quality and quantity of
(continued on page 2)
Free Webinar
New Techniques to Increase Your Channel Sales Performance


Thursday, August 10
1:00 pm ET


REGISTER NOW >
Upcoming Event
Sales 3.0 Conference


Monday, September 18


More Info
Daily Cartoon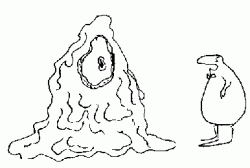 Darn it, Hanson! A first impression is extremely important in sales!