Sales Management Digest
Recruiting Commission-Based Salespeople
Sabrina Balmick
Commission-oriented compensation plans offer strong earning potential for high-volume sales reps. Often, companies structure their commission-driven reps as
independent contractors
, though, to improve retention, many organizations still offer permanent W2 roles – particularly for full-time positions.
Here are some tips for structuring commission-oriented sales positions:
Know your hiring profile. Commission-oriented positions aren't for everyone. Hiring too broadly before defining key qualifications may result in turnover and increased recruiting expenses. Instead, review your current staff's performance – closely analyzing your most successful reps – and build a target profile. Consider your sales model, product, and market as you create hiring targets.


Outline the earning potential over the first 30, 60, and 90 days of employment, plus the first year and beyond. How long will it take for a salesperson to ramp up? Are residuals built into the plan? Are there bonus opportunities in addition to commission? What's the mix of new sales versus existing business? Factor in work hours; commission-driven positions typically require more time than the average 9-5 job. Is the earning potential equivalent to the number of hours the rep will have to work? Paint a realistic picture of how much an employee can earn and the time frame required to do so. Don't oversell the potential. If you do, reps may leave for other opportunities, and you'll have to start over.


Consider offering a training wage. Because the market for salespeople continues to be competitive, an incentive like a training wage can make the difference between a candidate accepting your offer or your competitor's. This makes the position more attractive (especially if you're looking to hire entry-level reps), and the company's salary investment isn't as large as providing a permanent base salary. Once the training period is up, the base expires and, if all goes well, the rep begins earning commissions that exceed the training wage. The upside is a strong employer value proposition, a productive sales rep, and decreased turnover.


Understand your sales process. A complex sales process where most deals take months to complete isn't the best fit for a commission-oriented structure. How quickly can reps close sales? What steps are involved? Consider how much administrative work a rep has to do to close a sale and whether you can shift this to an operational support person. The more time reps spend selling, the more they can earn.


Offer a clear value proposition. Employer branding is critical in attracting in-demand talent to commission-driven opportunities. Apart from pay, what sets your company apart from competing employers? Why would a top candidate work for you? This is an opportunity to promote your company's culture, benefits, perks, and everything that makes you unique. Also, consider your products and services. Why should a rep sell your product or service over a competitor's? What makes you different? Marketing doesn't only influence current buyers. Today's candidate (or employee) may be tomorrow's customer.
Sabrina Balmick is marketing manager at ACA Talent. To learn more about recruiting and retaining sales talent, visit www.acatalent.com.
Upcoming Event
Sales 3.0 Conference


Monday, December 4


More Info
Daily Cartoon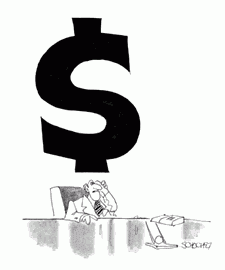 What's my sign?