Sales Management Digest
Five Tips for Hiring Sales Reps as Independent Contractors
Sabrina Balmick
Companies bleeding revenue and burned out on underperforming salespeople will often look to cut their losses, starting by terminating sellers who aren't hitting their goals. Some hiring managers take this a step further by reevaluating compensation and assessing whether to take on sales reps as independent contractors, rather than as employees.
When employers would rather "try before they buy," they often ask, "Why should I pay more for salespeople who haven't proven themselves?" Instead of incurring costs for benefits, employee taxes, and unemployment, employers offer sales positions at 100 percent commission for independent contractors in order to maximize profit and limit liabilities.
In many cases, it makes sense for companies, especially those in high-growth mode, to augment their sales forces with independent contractors. There are a few considerations companies should make before taking the plunge and hiring independent contractors.
Independent contractors are not employees. According to the IRS, the general standard is that an employer withholds taxes for employees, whereas independent contractors are responsible for these payments.

But the company's tax position isn't the only consideration. The US Small Business Administration specifically defines the roles of employees versus independent contractors. Pay close attention to how the job's responsibilities are structured, including hours, reporting structure, quotas, and job duties. Is your contractor performing tasks an employee might otherwise do? If so, consider converting that independent position to a full-time employee.


Be clear about deliverables. Since independent contractors may largely be setting their own work hours, you'll want a clear-cut understanding of both the tasks and services the contractor is responsible for and when you can expect to see results. Outline exactly how your products and services should be sold, and even offer ongoing training on new products. Less confusion ultimately leads to more sales.


Be clear about commission. Since, in many cases, this is a 100 percent commission opportunity, commission is often higher than what regular employees earn. Establish how you'd like to be invoiced for commission and how you'd like your contractors to account for sales.


It won't always be easy to hire salespeople as contractors. No matter how attractive your product or lucrative your commission structure, not everyone wants to work as an independent contractor – not even the best salespeople.

Recruiters often hear from hiring managers that the best and most motivated sellers will work on commission only. While this holds up in theory, it's not often the case. Because sales reps are in high demand (CareerBuilder's database reveals a three-to-seven ratio of job seekers to job posters for sales positions), the best sellers can pick and choose opportunities, which include permanent positions with benefits, expense accounts, and paid time off for starters.

There are many sellers, however, who may prefer to work on a commission-only, independent-contractor basis. Try networking with local professional organizations to attract like-minded sellers who are looking to add a new service to their portfolio.


Turnover may still be high. It's simply the nature of the beast, especially in the door-to-door world. High turnover might be acceptable if you're selling products and services on a subscription basis with monthly recurring revenue, offsetting attrition. On the other hand, if you'd like to spend less time recruiting and on-boarding sellers on a near-constant basis, it might be time to examine your retention strategy and figure out why people are ultimately leaving, regardless of the commission opportunity.
Upcoming Event
Sales 3.0 Conference


Monday, December 4


More Info
Daily Cartoon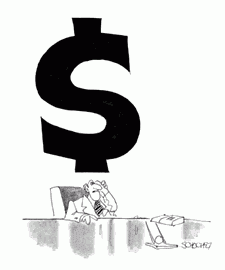 What's my sign?