Sales Management Digest
Five Strategic Coaching Points in a Complex Sale
LaVon Koerner
Coaching is one of the few high-impact practices that a sales leader can engage in to reap significant revenue-performance improvement in his or her sales team. In fact, research from CSO Insights suggests that coaching explains a 17 percent performance difference between those who are coached and those who aren't. So why aren't all companies seeing these results? Doesn't every sales manager coach?
There are two important points to consider when developing a successful coaching culture: the first is that every sales leader should be trained on how to coach. The other is that every sales leader should know when to coach. The latter point is often overlooked.
Knowing when to coach is just as important as how. Judicial deployment and timing of limited coaching resources deserves priority attention. There are five distinct times during the course of a typical sales campaign at which a sales professional is vulnerable to making judgment errors. A sales leader who is cognizant of them can very quickly review the judgments and apply corrective coaching, if needed.
As the sales cycle advances, the Demand Management Framework systematically addresses each phase of business development. Here are the common vulnerabilities of each phase and the resulting problems to avoid.
Phase 1 – Targeting
Targeting is the ability to assess, prioritize, and engage selected markets, accounts, or individuals to initiate the sales cycle. In this phase, salespeople often err in their preconditioning and have trouble selecting the appropriate market, profile, and entry. Coaching that's focused on targeting can help sales teams avoid a high cost of sale and turn around sales reps' low productivity.

Phase 2 – Creating
Creating is the ability to stimulate interest and generate buying activity outside the current budget allocations or existing procurement plans. Pointed coaching on the right go-to-market strategy, approach, and message can ensure that you avoid weak pipelines and chasing unqualified opportunities.

Phase 3 – Shaping
Shaping is the ability to frame a differentiated solution that has confirmed and relevant value for the client. Problems in this phase include having too small an average deal size, nondifferentiated solutions, weak value propositions, and opportunity slippage. Coaching should focus on asking the right questions of the client, codeveloping the value proposition, and identifying the right solution.

Phase 4 – Capturing
Capturing is the ability to create and execute a winning sales plan. Do your salespeople have the right political and competitive strategies? Have they identified blocks and traps? Are they getting the support they need from their client allies? Coaching on those common vulnerabilities can help avoid low win rates, low margins, and forecast inaccuracy.

Phase 5 – Fulfilling
Fulfilling is the ability to manage client expectations, ensure a good internal transition, and capture results to aid future sales. Salespeople struggle when they're delivering unrecognized value, missing up-sell opportunities, and losing strategic relationships. Focus coaching on establishing a results-tracking system, measuring the right metrics, and creating a value-recognition plan.


Well-timed, objective guidance from a trained coach will drive success and help salespeople avoid costly pitfalls. Delivering the types of coaching needed at each stage of the Demand Management Framework ensures growth, a firewall against competition, and a high-performing sales organization.
Free Webinar
Shorten the Sales Cycle: How to Generate More Sales in Less Time


Wednesday, November 1
2:00 pm ET


REGISTER NOW >
Upcoming Event
Sales 3.0 Conference


Monday, December 4


More Info
Daily Cartoon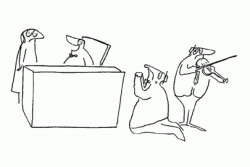 This is the part that always gets to me - when they ask for the order.