Sales Management Digest
How Much of Your Sales Team's Time is Wasted?
Selling Power Editors
A big payoff awaits sales leaders who take the time to gain a clear understanding of what's going on with the sales team at the ground level. First, finding out what's working well allows you to replicate those best practices across the entire sales force and improve the effectiveness of your middle 60 percent. Second, identifying and eliminating inefficiencies can free up more selling time – which can drive higher revenue without the investment of increasing head count.
When all is said and done, sales leaders who become disconnected from their salespeople's daily habits and routines put their leadership effectiveness at risk. As Colin Powell once said, "The day the soldiers stopped bringing you their problems is the day you stopped leading them. They have either lost confidence that you can help them or concluded that you do not care. Either case is a failure of leadership."
One of the best ways to gain insight at the ground level is to collect structured feedback from the sales team to find out how team members spend their time. Experts at global sales and marketing consulting firm ZS Associates recently developed the
Sales Force Activity Snapshot
(SFAS) to help sales leaders analyze the activities of the sales team. Dan Peterson, Managing Principal of Operations at ZS Associates, says using the SFAS is a great way for sales leaders to see where they need to make improvements.
"The comment I've heard most often from sales leaders we work with is that the data from the SFAS can be sobering," Peterson says. "Sometimes they're aware that a problem exists with how the sales force is spending its time but learn that the problem is more serious than they thought. Other times, we uncover challenges they hadn't been aware of at all."
Whether initial results indicate a need for more time spent prospecting, more coaching, or less time on nonselling activities, an outside expert such as ZS has the advantage of seeing things with fresh eyes and knowing what's worked for other companies facing similar issues.
For example, one big worry for a ZS client before it used the SFAS was whether its first-line sales managers were spending enough time coaching salespeople one-on-one. The client had an idea that the number might be low, but the actual results were surprising: just three days a year per salesperson were spent on individual coaching. ZS Associates has found that high performing first-line managers typically spend between 12 and 24 days a year engaging in coaching activities with each of their sales reps (which would include, for example, field rides, weekly sales activity and pipeline reviews, and periodic territory and account-plan reviews). Such individual coaching leads to improved selling skills, higher salesperson engagement/employee satisfaction, higher retention, and better sales results. Thanks to the SFAS, the client was able to see this gap clearly and take necessary action.
Data from the SFAS also help sales leaders distinguish the different ways that high, middle, and low performers allocate their time. For example, among ZS clients who have used the SFAS, trends show that high performers spend time in the following ways:
They focus on the right types of customers (for example, going straight to select end users as opposed to focusing purely on distributors).
They employ more creative prospecting techniques (for example, getting highly involved with local associations and working groups to create better access to key customers, partners, and influencers).
They spend more time on detailed customer-needs assessments, and they do a better job of customizing solutions and proposals based on those needs.
They devote almost twice as much time to sales-planning activities (for example, territory planning, account planning and precall preparation).
With so many priorities to balance, sometimes it's easy for sales leaders to neglect the communication loop between themselves and their salespeople. Remember to periodically assess your sales force to understand how team members spend their time. Once you identify problems, take action to address them. The combination of insight and action will very likely open up opportunities to increase productivity and revenue.
Upcoming Event
Sales 3.0 Conference


Monday, December 4


More Info
Daily Cartoon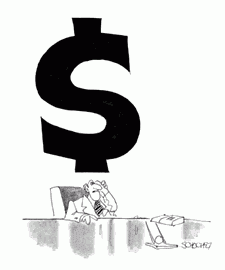 What's my sign?