/// Daily Quote
"The future of work consists of learning a living."
-- Marshall McLuhan

Selling Power Magazine Article
Selling the New SunGard Way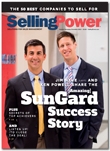 Subscribe Now
How much is at stake in a sales transformation? According to extensive research by global sales and marketing consulting firm ZS Associates, companies that move their sales force effectiveness metrics from average to excellent as part of a sales transformation can increase profitable growth by 5 to 15 percent – and sometimes by 20 percent or more.
Those numbers would make almost any sales leader sit up and take notice. On the other hand, a sales transformation is a staggering endeavor. Not only does an overhaul of this scale take several months to plan and execute, it requires strategic and coordinated effort among a team of senior leaders whose priorities are tightly aligned. And, of course, successful change requires consistent, crystal-clear communication companywide. Everyone on the lowest to the highest rung on the ladder must be a stakeholder and understand how change will result in a better, brighter future.
A Transformation Journey Begins
In December 2011, Jim Neve was appointed senior vice president of global sales and marketing operations at SunGard. In February 2012, Neve brought Ken Powell on board as vice president of global sales enablement. The two had worked together on other successful, large-scale sales transformations, and their aim at SunGard was to create similar success. Neve and Powell understood that SunGard needed to address problems familiar to most enterprise sales organizations: globalization, the explosion of the Internet and its effects on buyers' access to information, increased compliance requirements imposed by governments, and tighter budgets imposed on IT departments.
SunGard also faced some unique challenges, however. On the way to building its existing reputation as one of the world's leading software and technology services companies, SunGard grew largely by acquisition. Since its founding in 1982, more than 160 acquisitions have taken place. When Neve and Powell came on board, SunGard's go-to-market approach was highly fragmented, left to the individual businesses to define. Frequently, multiple sales reps pursued the same clients. The company had thousands of consultants engaged in professional services work, yet its main selling focus was licensed software.
"We were moving from a holding company to an operating company," Powell says. "We needed to maximize our channels, sell the broadest set of solutions possible, and go to market in a coordinated manner. We needed to build a sustainable growth engine."
Selling the SunGard Way
One of the primary goals for the initiative was to shift to what was branded internally as "Selling the SunGard Way." SunGard leaders wanted reps who could understand the buyer's journey, anticipate customer needs, and tailor interactions to meet shifting concerns. In sum, they wanted reps to be equipped to sell based on insight. In doing so, they hoped to create a sales force that could differentiate SunGard from competitors by leveraging knowledge, experience, and expertise.
It was vital that reps be capable of becoming long-term partners and trusted advisors for both current and prospective customers. The transformation would lead to selling solutions that combine leading technology and services from across all SunGard units, not just the product divisions. Moreover, sales presentations would deliver, not just product information, but also insight into improving each customer's business. The SunGard rep's ability to make the sales experience a beneficial one for the customer would rise above product functionality and price.
One of the key starting points was to administer a global sales-productivity survey to 500 sales associates to get insight on the current and desired state of sales readiness across the firm. Among many findings, the survey revealed that 80 percent of reps were concerned with getting better training, as well as good, competitive analyses and more effective sales campaigns. They also wanted better data, fewer administrative tasks, and a simplified Salesforce interface. This survey helped SunGard develop and shape a detailed transformation plan.
An Investment in Change
To support this plan for change, SunGard needed to overhaul a number of different practices. For example, in addition to improving and refining its value proposition with the assistance of Corporate Visions, SunGard also needed to alter how sales reps are selected, trained, managed, and compensated. Senior leaders determined that the plan would require an investment totaling in the millions – a steep price tag; however, the more senior executives realized the value of the proposed changes, the more eager they were to find ways to finance them. In some cases, they shifted budgets from ineffective programs and reallocated funds to projects related to the sales transformation. "The whole organization gravitated toward change," Powell says. "[Everyone] knew it had to happen."
This was in part thanks to the fact that key leaders spent months educating decision makers within the company and planting seeds for growth and change. As a partner company involved closely with SunGard's sales transformation, ZS Associates was impressed by the groundwork already laid.
"What was unusual about SunGard is that Neve and Powell had architected the transformation well before they ever brought us in," notes Ashish Vazirani, leader of ZS's high-tech practice. This architecture made it easier for ZS Associates to bring its own expertise to the table and help SunGard better segment its markets (in part by heightening focus on major accounts). The collaboration improved SunGard managers' understanding of different types of customers and what additional products each type might buy, and this understanding thus empowered them to make better strategic decisions about which prospects to pursue.
Seeing Change from the Ground Level
Todd Albright, senior vice president of Americas sales for asset management, joined SunGard in late 2012 for two reasons: "There was a tremendous product suite that had yet to capture its full market share, and there was an abundant amount of executive sponsorship of the transformation, from the CEO on down," he shares. Albright says the firm never could have captured its rightful market share without the sales transformation.
In fact, a major
(continued on page 2)
– Henry Canaday

Today's blog post is by Dan McDade, author of The Truth About Leads. Recently, over a cup of coffee, Dan Waldschmidt (Waldschmidt Partners) and I talked about the herd mentality that causes many well-intentioned businesspeople to follow the crowd blindly - often in the wrong direction - based on one so-called expert or another proclaiming that "cold calling …
READ THIS BLOG
>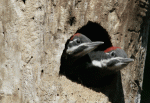 /// Upcoming Event
Sales 2.0 Conference
Monday, March 10
8:00 am
More Info
>