Sales Management Digest
Nine Simple Tips to Keep Customers on Your Side
Selling Power Editors
No one likes to be taken for granted. If you say thanks only when it's time to renew a contract or make a sale, your customer may not want to extend or expand the relationship.

Showing you care even when there's not a sale at stake is easy, and it doesn't have to be costly. Below are nine customer-care actions that will help to enhance customer satisfaction and help you build relationships that win sales.

1. Contact customers when it's not necessary. One tech consultant checks in with clients a week or so after completing a job. Not only does he ask for feedback on what he did, but he passes along helpful information that's not directly related to his work. It sends the message that he appreciates the work and the relationship, as well.

2. Let your customers know how much you like working with them. Why assume that they know? Letting them know in writing why you like working with them puts it squarely on the record.

3. Ask your customers what you could do to make working with you easier for them. Even when you have a good working relationship, there still may be something that's not quite right. While the issue may not be a relationship breaker, it can still be a burr under the saddle. It's always good to uncover and get rid of it.

4. Pass along leads. A good lead may be the greatest gift you can give anyone. A customer will appreciate it far more than tickets to a game or a round of golf. Although a lead is free, it has tremendous value for the recipient. It also shows that you care.

5. Be candid when asked for your opinion. When a customer asks for your opinion, it's a pivotal moment. Will you be a wimp, or will you be candid? Even if the customer doesn't agree with your opinion, more than likely, he or she will respect your candor.

6. Don't cut corners. When customers have been around for a while, you might be tempted to put them on autopilot – doing what's necessary to keep the business but also coasting. If customers don't figure it out first, a competitor won't be far behind to move right in.

7. When something hasn't gone well, let your customers know what you would like to do about it. Yes, things go wrong no matter how hard we try. When they do, jump on them quickly and tell the customer what you're going to do to fix them.

8. Take the initiative. Step up to the plate and act before you're asked. Initiative shows you have ideas and are capable of undertaking new and challenging tasks. Showing initiative may be the best way to be viewed as outstanding.

9. Keep your word. If you say you're going to do something, then do it. If for some reason you can't, then quickly explain why. It's easy to get a bad reputation – and difficult to get rid of one.

Individually, each of these customer-care actions has value; when taken together, however, their impact can be enormous – even transformative.

Upcoming Event
Sales 3.0 Conference


Monday, December 4


More Info
Daily Cartoon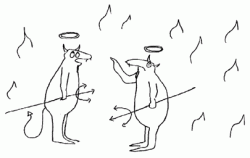 I didn't want one either, but the guy had such a great sales pitch.