Selling Power Magazine Article
Give 'Em the Goods
Henry Canaday
Even more strikingly, top firms were 90 percent more likely to offer public recognition and 95 percent more likely to offer peer-to-peer recognition for progress toward sales goals. And all of the best companies offered group travel and company-sponsored events to recognize year-end sales success. The top-performing firms consistently regarded teamwork as a very important part of the sales process.
Overall, firms with a formal recognition program had a 15 percent higher team-quota attainment and a 16 percent higher customer-renewal rate than firms that did not. More than half of surveyed firms said that noncash rewards and recognition, in addition to incentive cash compensation, are important in managing sales performance.
According to a variety of metrics, firms did best when they outsourced the management of their noncash incentives. For example, companies that outsourced incentive management showed higher lead-conversion rates and shorter average sales cycles.
The Aberdeen study reinforces what smart sales managers and incentive firms have long known: in addition to performance-based cash compensation, noncash rewards – travel, merchandise, and debit cards – make a big difference in sales, especially in motivating short-term behavior and effort in specific activities, such as quickly introducing a new product.
And managers know that how they congratulate their high achievers is at least as important as the congratulatory gift. Sales reps, even more than other employees, enjoy public recognition for their hard work, which is often carried out alone and far from the home office.
Sales reps' natural competitiveness and desire for public recognition have made sales contests popular. New technologies have turned these contests into electronic games, as gamification has become the new buzzword in incentive tools. Instantly updated leaderboards, prominently displayed and often tied to a sports theme, have made contests exciting and fun.
But don't forget the old standards for rewarding superb long-term sales achievement. Nice cars, cameras, and trips still win hearts and minds, as do those annual award ceremonies at annual meetings.
Toyota (
www.toyota.com
) is the second-largest automaker in the world, with a line of economical and attractive sales vehicles. But why not give a consistent top performer some special wheels, such as the Toyota Highlander, a smooth and quiet SUV that seats seven? It feels big like a truck but rides like a car and has plenty of family-friendly safety features.
Canon's new PowerShot N digital camera (
http://shop.usa.canon.com
) has built-in Wi-Fi to wirelessly transfer images to social-networking sites using a free Canon application. Its mobile device Connect button allows quick and easy sharing, while a creative Shot Mode generates five unique images with an artistic flair. And it retails for less than $300 – a cost-effective way to recognize the runners-up in the annual sales contest.
Maritz (
www.maritz.com
) is the incentive and motivation expert, especially in setting up dream trips that delight sales winners and motivate their rivals with competitive envy. Best of all, Maritz can do it all, from designing and executing the contest to procuring and distributing the prizes.
Xactly's Incent (
www.xactlycorp.com
) automates just about every aspect of a smart compensation plan, from analytics that help you determine whether or not the plan is doing what it is supposed to do, to eDocuments and approvals to speed up closes and rewards, to Modeling and Sandbox modules to see if you could do better with other plans.
Hoopla (
http://hoopla.net
) can put big revenue points on the board for your company while reps have fun. Reps who enjoy what they do compete more vigorously, show up for work more reliably, work together as a team, and deliver better results. Hoopla's gamification approach and real-time scoreboards put the excitement into sales, and it integrates with Salesforce.
LevelEleven (
http://leveleleven.com
) gives you prizes and lets you target specific users. There is a real-time leaderboard and leader TV with automatic updates. An easy wizard lets you build a competition based on the behaviors that make for sales gains. You can reward lead conversions, logged events, completed tasks, new opportunities, or progress on existing opportunities.
(continued on page 2)
Free Webinar
2-HOUR VIRTUAL SALES TRAINING


Tuesday, December 6
2:00 pm ET


REGISTER NOW >
Daily Cartoon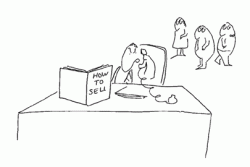 Wait, you moron! Don't place a $50,000 order yet - I haven't come to the close.