/// Daily Quote
"Education is an ornament in prosperity and a refuge in adversity."
-- Aristotle

Selling Power Magazine Article
Value Your Values

Subscribe Now
Hard-charging, results-oriented managers may not see the importance of such "soft" issues as a company's values and culture, but some enlightened CEOs suggest that the soft stuff does matter. Here are 11 "soft" management principles one highly successful CEO used to lead his company to more than $2 billion in sales.
1. Give your people top billing.

Each company must choose its own way to do this. One successful CEO says his managers go to great lengths to be an informal, nonpolitical, loosely structured organization that employees can talk to at all levels. He and his company try to create a culture that's not stuffy and make every associate feel that the executives are accessible.
More than 10,000 company associates are shareholders in this company. More than 2,000 managers participate in the company's stock-option plan. Top management tries to be part-time instructors for incoming new hires and meet associates throughout the country.
2. Use full-time champions.

In many companies, managers gauge their importance by the size of the entity they're leading. The better a person thinks he or she is, the more he or she wants to be responsible for something bigger than yesterday's responsibility.
At this company, however, full-time champions are absolutely necessary for the toughest jobs, and the toughest jobs usually aren't the ones with the most employees or the biggest revenue level. That's why at this company, management tries very hard to make the best person accountable full-time for the toughest job and overcome the normal instinct to measure a person by how many employees he or she supervises.
3. Communicate well and often.

Managers at this company communicate via various media, from videos that run on screens mounted in different parts of the company's offices to recordings employees can listen to as they travel to and from work. They have both formal and informal meetings, and some include breakfast, lunch, or dinner. The rule for sending a message: don't settle for communicating it only once and only in writing. If you don't think you're overdoing communication, you're probably not communicating enough, and rumor will begin to dominate facts.
Also, remember that it's OK to skip levels when you're communicating. The A's need not talk only to the B's, asking the B's to tell the C's. The A's should talk to the D's, E's, and F's.
4. Be a "hands-in" executive.

At this company, it's "hands-in" rather than "hands-on." Company execs strive to be even more deeply involved, delving into the details to get a corroborated understanding of what's going on in the company and convey to associates that each one is doing an important job. Very often, you learn from an associate information that you couldn't possibly learn sitting in an office on the top floor.
Some people think that being so involved is impossible. But if managers were to detach themselves from intermittent hands-in involvement, they would eventually spend more time getting up-to-speed on things they missed than they would simply staying involved. They'd forfeit teaming opportunities because they'd be out of touch with the organization.
This style of intermittent hands-in includes many techniques. The company has more than 50 locations, and the CEO visits each one every year. At every location, he talks one-on-one, not only to the senior managers, but also to more than half a dozen middle managers.
He also reviews some of the company's accounts payable. Once a month, the corporate controller and the controllers from each of their largest strategic business units give him about 30 randomly selected accounts-payable vouchers to examine. The entire accounting organization knows he looks at these vouchers. He's not performing a normal auditor's review, verifying arithmetic or checking receiving tickets against invoices, but looking for activities that appear not to have been handled as he'd expect they would be.
And, finally, management applies the hands-in philosophy to their telephone systems. The CEO's direct number is available to every client and anyone else who asks for it. His administrative assistant picks up the phone only if the CEO doesn't answer it after three rings.
How does he cope with the interruptions? Most people who call need to reach him, not somebody else. He goes home at night with no "return call" messages on his desk.
5. "Zero base" your organization periodically.

Several years ago, the CEO visited the FedEx sorting plant in Memphis to learn firsthand how the firm manages to keep its employees so motivated. He discovered FedEx had, at the time, an average span of control of one supervisor for every eight workers in a firm of 30,000 employees while his company had, at that time, an average span of control of one on five. This CEO and FedEx CEO Fred Smith figured that if his company had the same span-of-control ratio as FedEx had at the time, it would have employed 4,000 more supervisors and two extra levels of business management.
6. Watch out for groupthink.

There's a big difference between brainstorming and decision making. To some managers, group decisions seem safe. They feel democratic and comfortable because nothing is done unless everybody agrees; however, while getting input from multiple sources is valuable when you're examining an issue, you need to stop the opinion gathering as you get
(continued on page 2)
– Selling Power Editors

Today's blog post is by Dan McDade, author of The Truth About Leads. Recently, over a cup of coffee, Dan Waldschmidt (Waldschmidt Partners) and I talked about the herd mentality that causes many well-intentioned businesspeople to follow the crowd blindly - often in the wrong direction - based on one so-called expert or another proclaiming that "cold calling …
READ THIS BLOG
>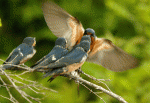 /// Upcoming Event
Sales 2.0 Conference
Monday, March 10
8:00 am
More Info
>