/// Daily Quote
"Go fast and with great pride."
-- Unknown

Selling Power Magazine Article
Show Them the Money

Subscribe Now
Performance-based compensation is one of the key drivers of sales success. And the performance that rewards are based on is the very definition of this success. But how do you measure performance and distribute compensation fast, accurately, and with minimum hassle for both reps and managers? New digital tools enable you to do all of this, plus a lot more.
Xactly provides sales-compensation management that eliminates commission errors, dramatically improves the visibility of compensation, and saves time for managers, reps, and support staff. Xactly Incent is Web based and automated. It replaces the tedious, error-prone, and invisible manual processes traditionally used to execute one of the most crucial factors affecting sales success: compensation.
Xactly modules let you use just the tools your organization needs. For example, the Analytics module puts all your sales-compensation metrics in one place and provides a single, unified, clear view of them all. Powerful ad-hoc analysis and prebuilt analytic content offers superb flexibility in slicing and dicing the data.
The eDocs & Approvals module lets you customize, route, track, and approve compensation documents. The Modeling module enables managers to easily estimate the effects of compensation changes. With the Sandbox module, you can make changes to compensation without affecting operations. And the Credit Assignment module automates territory management and credit assignment.
Xactly's DELTA tool links sales compensation with human resources, payroll, and other systems. This is important because smart compensation requires all relevant data, but gathering data can be hard when it resides in many different systems.
Xactly Incent is available in two basic versions: an enterprise version for firms with more than 100 reps and a business version for organizations with fewer than 100 reps. And Xactly Express provides straightforward compensation management for growing businesses.
Varicent offers an enterprise solution to improve compensation and performance in companies with more than 250 reps. It lets you design and manage complex pay-for-performance and compensation programs, including sales commission, management by objectives, and noncash reward programs. It's available in the Cloud, so enterprises can get up and running quickly, reducing the burden on their IT departments and fully exploiting Varicent's own resources and scale. If you want to maximize security and flexibility, the solution can be installed on premises.
Varicent has the scale to be effective, having been deployed by multinational organizations worldwide to rapidly process hundreds of millions of transactions and automate compensation for tens of thousands of participants. Varicent also ensures that systems and plans are designed according to best practices for each industry.
Beyond automating incentive-comp calculation, Varicent supports territory and crediting management, channel management, quota distribution, and sales-performance reporting and analytics.
Large enterprises must link compensation systems with other applications, so Varicent provides easy access from smartphones, tablets, and other devices and easily integrates with enterprise resource planning systems, payroll, and business-intelligence tools. Of course, it also integrates tightly with Salesforce, Microsoft Dynamics, and other CRM and sales force automation applications.
Varicent also offers a midmarket solution that is ideal for companies with 50 to 250 salespeople. It creates and administers variable pay programs, automates commission calculations, and quickly distributes personalized payouts to salespeople. This version supports complex and evolving incentive programs with a plan builder to implement plans and business processes. A flexible data model means there is no need to transform data before entering it into the Varicent solution. And it is designed for volumes of data and data requirements that many other compensation-software solutions cannot handle.
Managers intent on compensation and performance improvement need more than just top software. They also need knowledge, and that often comes from peers who are working on the same or very similar problems. One very efficient way to reach out to peers and tap their combined expertise is to join World-atWork, a nonprofit human-resources association for professionals and organizations focused on compensation, benefits, work-life effectiveness, and total rewards. Members look for the best strategies to attract, motivate, and retain an engaged and productive workforce, including the sales force.
WorldatWork and its affiliates provide education, certification, research reports, and a wealth of studies on best practices in performance and compensation.
WorldatWork certifies qualified people in such fields as compensation, benefits, global compensation, and sales compensation. It has a local network of compensation, benefits, and human-resources organizations around the world. WorldatWork currently has more than 65,000 members and subscribers worldwide, including a manager from almost every Fortune 500 company.
– Henry Canaday

Today's post is by Marc Wayshak, sales strategist and author of Game Plan Selling: The Definitive Rulebook for Closing the Sale in the Age of the Well-Informed Prospect and Breaking All Barriers: Insider Secrets to a Limitless Life. "Jingle bells! Jingle bells! Jingle all the way! Oh what fun, it is to ride..." Just the thought of that …
READ THIS BLOG
>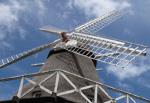 /// Upcoming Event
Sales 2.0 Conference
Monday, May 5
8:00 am
More Info
>