Sales Management Digest
Four Questions to Refresh Your Weekly Team Meeting
Selling Power Editors
Weekly sales team meetings should ideally pack a productive punch. After all, if salespeople aren't going to get enlightenment and encouragement from management, where else are they going to get it?

More often than not, however, grand plans for successful weekly sales meetings fall by the wayside. If you've fallen into a rut, use these four questions to refresh and revitalize your approach.

1. Do we need this meeting?

Proper planning requires that managers start by asking themselves why they are holding a meeting in the first place. If you don't have a good answer, you shouldn't be wasting your time – or that of your reps.

2. When is the ideal time to meet?

Too often, sales managers hold meetings on Mondays at 9:00 a.m. because there has always been a meeting on Monday at 9:00 a.m. Consider scheduling your weekly meetings during possible down times – say, Thursdays at 4:00 p.m. – instead of on Monday mornings when people are generally gearing up for the week.

3. How frequently should we meet?

If your sales team is composed of seasoned veterans, then a weekly meeting may not be necessary at all; on the other hand, new blood might need a weekly check-in to build teamwork and rapport and coach on selling skills.

4. How can we stay on schedule?

For salespeople, time is money. Time spent in meetings is time they aren't with customers, so let your reps know that you value their time not only by setting a schedule but also by making sure you keep that schedule. Start on time and end on time, no matter what. Waiting for everyone to show up does far more damage than just starting without them. Remember, if you start late, you'll probably end late, and that will cut into the time your salespeople had planned to be selling.
Upcoming Event
Sales 3.0 Conference


Monday, December 4


More Info
Daily Cartoon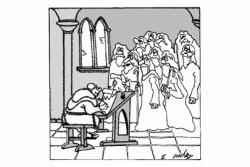 Prophets are up.