Webinars deliver a high number of great sales leads
About Webinars
Webinars are online events designed to communicate your unique selling proposition in an educational setting to a highly focused and targeted audience. These one-hour online events offer you the opportunity to presell highly qualified prospects that will translate into valuable business opportunities for your salespeople.
Selling Power will provide a turnkey Webinar solution that includes
the creation of an effective Webinar theme
highly targeted e-marketing campaign
recording technology
Selling Power's Gerhard Gschwandtner as the moderator who will engage the presenter in a lively conversation and facilitate audience participation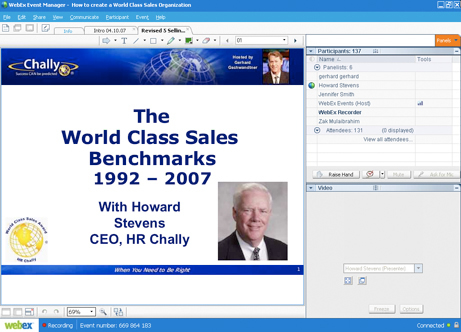 Frequently Asked Questions:

What's the time from planning to completion?
We can plan and deliver a Webinar from sign-up to execution within six weeks.
What is the cost for a Webinar?
The basic event production and promotion includes
an online newsletter ad
a banner ad on SellingPower.com
an email blast to 20,000 SellingPower.com members
the technology piece, including the conference call
recording of the event for future use on your site
The basic cost for a Webinar is only $19,000.

What can you do to boost the response?
To boost the response of the basic promotion package, Selling Power offers the following additional options:
newsletter sponsorships: $5,000 each
email blasts: $495 per 1,000 delivered (up to 105,000 names are available)
banner ads on SellingPower.com: $5,000 each
How many sales leads can I expect from this venue?
The results of a basic event depend on your subject matter and the copy of your invitation. The response rate can increase dramatically through additional promotion. The average Webinar draws over 350 registrations.
What lead information will I receive after the event?
You will receive the participants' names, titles, addresses, phone numbers, and email addresses within 24 hours of the event.
How can I drive up the number of registrations?
Selling Power has generated as many as 1,000 registrations for certain Webinars. These registrations have been generated through additional email blasts, additional banner advertising, print advertising and additional newsletter sponsorships.
What value-added services do you provide?
Selling Power will help you (at no extra cost) with the overall marketing concept, editing your email invitation and reviewing your PowerPoint presentation. In addition, Selling Power will supply the moderator. (You need to supply the main presenter.)