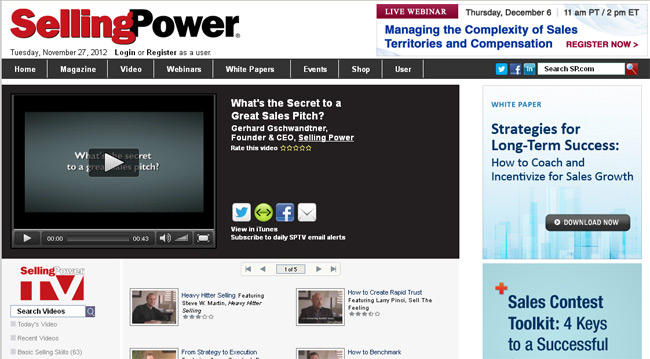 Selling Power Video - A brand new way to tell your story
The fastest growing medium on the web
Every month, over 20,000 sales executives watch Selling Power's daily video online to get inspired, find innovative business ideas, discover better ways to sell, market, and manage. An additional 20,000 viewers download Selling Power videos a month from Apple's iTunes Website. In addition, bnet.com, a leading business site rebroadcasts Selling Power videos on their site which translates into 15,000 additional views a month.
About your host
Gerhard Gschwandtner interviews CEOs, VPs of Sales, leading sales trainers, best selling authors, business consultants, technology experts, personal coaches, and psychologists. Recent interviews featured CEO from companies such as Heartland Payment Systems, CareerBuilders, SAP Americas, Bluewolf, Sugar CRM, and Landslide. View one of the over 360 available videos.
What are the subjects?
Subjects covered in these five-minute interviews include: Leadership, Sales Management, Hiring, Sales Process, Sales Training, CRM, Selling Skills, Motivation, Psychology, Coaching, Marketing, Team Building, and Health and Fitness.
Here is how we'll work with you:
Production planning: Selling Power will consult with your team to determine your key objectives. Next, we will create an outline for a one-hour video interview session which will result in three separate five-minute videos. We will interview your CEO or a designated company spokesperson. Each video will have a distinct focus and title.


Video shoot: Selling Power will set up a video shoot in a spacious hotel suite where we can control the lighting and sound recording. The interview can follow a set of prepared questions, or it can be free-flowing like a natural conversation.


Editing and broadcasting: Selling Power will edit your videos and insert screen captures from your site to illustrate your product or your website. We can also insert photos or existing video clips. The finished videos will be aired on three consecutive days. Each video will be cataloged and archived on our site for future playback.


Promotion: Each video will be promoted through an email blast to an opt-in mailing list of over 10,000 sales executives, which represents a total of 30,000 emails over three days. To increase your marketing power, we will link each video to your website, or a designated web-page. You can post the video on your site or link from your site to our video site for immediate playback.
Implementation:
Our Selling Power video crew is available for producing your video in all major cities across the U.S. We regularly film in New York City, Atlanta, Chicago, San Francisco, Los Angeles, Seattle, and Washington DC.
We reserve one day a month for producing videos for our advertising clients. The edited version of the video will be ready to air within two weeks of the shooting date. Please email your Regional Advertising Manager to get the next available shooting date.

Your investment:
To create, edit, host, promote and air the three videos, your net cost is only $5,000. This includes the video production planning, the video shoot, editing and all email blasts to promote your video.

Payment schedule: $2,500 upon signing, $2,500 after approval of your three videos.

Video success story 1 Video success story 2 Video success story 3

Video site advertising
The Selling Power Video site is limited to four text ads and one single banner ad. (video site)