50 Best Companies to Sell for in 2013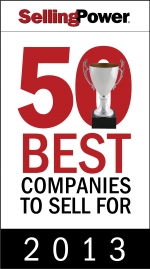 For the thirteenth year, the corporate research team at Selling Power has identified and ranked the best companies to sell for among the best sales forces in the United States.

The focus this year expanded to include companies of all sizes, not only those with more than 500 salespeople. An extensive, expanded questionnaire was sent to top sales executives, training managers, and human resources managers to request key data that would be important to prospective employees looking to enter the sales profession.

This year, we focused on three broad areas while examining the data: customer growth and retention; hiring, compensation, sales training, and enablement; and company recognition and reputation. (See ratings chart below).

As expected, our detailed rating system placed the top companies extremely close, with only 10 points overall separating the top 10 companies. In cases of a tie in the overall point rankings, the companies were placed in alphabetical order. Anyone entering the sales field should begin his or her search by taking a good look at these top companies to sell for.

The Top 10 at a Glance
Spotlight on SunGard:
Recently, SunGard embarked on a big-ticket sales transformation to support its "relentless" focus on building "the most well-trained, supported, and compensated sales organization in the industry." With a global reach of 15,000 customers in 70 countries and a healthy commitment to product development, SunGard offers a dynamic sales environment with lots of opportunity.
Upcoming Event
Sales 3.0 Conference, San Francisco


Monday, March 12 - Tuesday, March 13


More Info